Smartphones with Android, or any other smartphone-integration isn't anything new. Sony Ericsson did their best with the Live View but it pretty much failed, although the concept was wonderful. This time around, i'mWatch by Blue Sky Srl is taking another stab at the concept. The Italy-based designer has put together a pretty impressive 'smartwatch' which will be able to integrate via Bluetooth with your iPhone 4, Android device or future models of RIM's Blackberry line.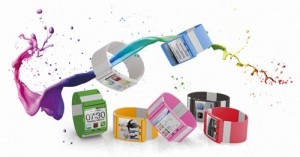 The model above is just one of seven colors that are available. The i'mWatch allows you to view the time, make calls, receive calls, use the speakerphone for voice calls, receive text messages, receive emails, check the weather and much, much more. Unfortunately, the i'mWatch is priced at €249 which translates to $360 – quite a hefty price tag for a watch; even one that is as full-featured as the i'mWatch.
Check out the official website for more information, video and ordering info.