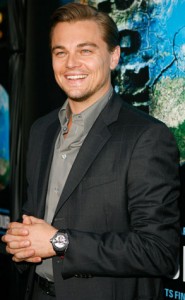 Where social conscience meets conspicuous consumption, you will find the likes of Leonardo DiCaprio whose taste for expensive watches is being put to some positive use.

 

Jaeger-LeCoultre, manufacturer of said watches, has teamed up with DiCaprio in a conversation I feel certain went something like:
DiCaprio: "Wouldn't it be cool if…(add fad here)… was in a watch!"
Jaeger: "Yeah, fine." turning to his head designer, "Put those two up for auction, I never liked them anyway."
I have never been a fan of the Celeb/Designer ala Kathy Lee, Sean Jean, or J. Lo, because it is basically a gimmick.

 

No, it is actually a gimmick, and one that benefits people who are already over privileged and rewarded for not only contributing to, but glorifying the conspicuous consumption that is at the root of every problem in which the US has become mired. Which is also celebrated by the Oprah viewers and MTV crowd for whom People magazine counts as literacy.
So fight fire with fire and set facetiousness (almost completely) aside. Leonardo DiCaprio seems to be one of the celebs who is actually willing to put his money where his mouth is, or at least his wrist.

 

The auction of these watches is for the benefit of the Leonardo DiCaprio Fund at the California Community Foundation.

 

All proceeds to directly benefit the cause of environmentalism.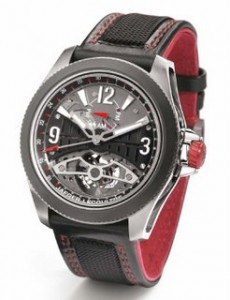 The first watch valued at $300,000.00, a one-of-a-kind Master Compressor Extreme Lab, which DiCaprio wore to the premier of the 11th Hour, a feature length documentary in the vein of "An Inconvenient Truth" about the impact of human industry and commercialism on the environment.

 

Made with carbon fiber and titanium, this watch offers a pointer-type AM/PM indication at 12 o'clock, for those who have some trouble determining day from night for themselves, as well as the first mechanical movement to operate without any lubricant; thus, eliminating those pesky trips to Jiffy Lube when your watch is running a few quarts low.

 

This piece has been engraved with DiCapro's autograph.
Jaeger-LeCoultre's second offering, apparently named after his favorite helicopter, is the Reverso Gyrotourbillon 2.

 

Designed for the 175th anniversary of the company, it is made out of platinum and valued at twice the value of a comfortable two bedroom home on a quarter acre, or approximately $400,000.00.

 

Setting the bar ever higher for Timex and Citizen, this watch has the first-ever spherical tourbillon, and also boasts a 50-hour power reserve.

 

I only wonder how long it runs before you hit that reserve, and is there a led that tells you, you have two days left on the battery, or do they call you from the factory after linking to your watch through wireless internet and GPS global location service?

 

Is that a separate subscription fee?
DiCaprio is an advocate for alternative energy, so be warned, it is just possible you will have to wind these watches yourself.