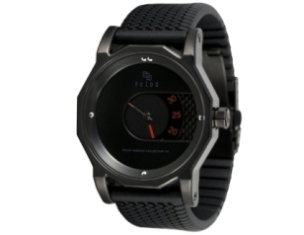 To provide high quality luxury watches affordable for everybody, that´s what the new wristwatch collections by FELDO Luxury S.L. offer. Everybody who is searching for special ladie´s watches and men's´ watches will be delighted by all the brand new FELDO Luxury S.L. watches.
Not only the whole design and composing of the wristwatches is highly convincing. Moreover the detailed realization of high class design elements is remarkable. In all luxury watches the customer can find an original design and a special technical extra. Furthermore, the high functionality of these watches guarantees the possibility to read the time easily. This special technical aspect of each watch is protected by a patent by FELDO once a new design has been created. Nowhere else in the world watches with a design like this can be found. And this makes FELDO´s watches so special.
All luxury watches designed and manufactured by FELDO Luxury S.L. are produced using both accurate machinery and the most experienced experts. The production of each part is performed by the best companies of the world in order to achieve the highest level in design and quality. Especially the remarkable watches are manually assembled by Swiss watchmakers and a German goldsmith. Like this, the uniqueness and unusualness are certifying its title as being exclusive pieces. The labels "Swiss made" and "Made in Germany" is familiar program at FELDO´s new collections.
The finest watches series are most exclusive pieces of jewellery. These watches are featured with a Swiss handmade mechanical watch mechanism and combine the most modern materials. The finest watches series 1-1 and 1-2 are custom tailored for a perfect appearance. The material combination of carbon fiber, warm red gold or cool stainless steel and the patented time indication make these watches something special on the market.
For the more sporty and juvenile wearer FELDO Luxury S.L. has designed the Fashion Line and Sportive Line. The Fashion Line definitely catches the eye. Unconventional and special design in combination with exceptional materials and the patented time indication complements and completes every outfit. The Sportive Line supports every imaginable active lifestyle. No matter if playing golf, going diving or driving a racing car, these chronographs are eligible for everything and look great on everybody.
If you want to learn more about the new FELDO Luxury S.L. wristwatch collections visit our website: www.feldo-luxury.com