Philip Stein Group, parent company to the FRUITZ watch brand debuts a limited-edition collection of timepieces infused with their proprietary Natural Frequency Technology for PeaceLove Studios.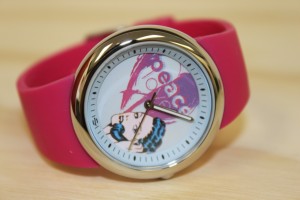 PeaceLove Studios is a growing community of mental health advocates and artists dedicated to breaking the "silence" surrounding mental illness with a positive symbol that is focused on creating hope and acceptance for this social injustice.  Through the sale of PeaceLove Studios Art dial watches, FRUITZ by Philip Stein will donate 10% of gross profits to support PeaceLove Studios, providing individuals and families coping with mental illness access to resources, opportunities and healthcare. Each watch purchased provides approximately five children living with mental illness the opportunity to participate in the PeaceLove Studios Paint4Peace program. Paint4Peace teaches art as a means to inspire, motivate, build self-confidence and deliver a message of hope. Collectively FRUITZ by Philip Stein and PeaceLove Studios, strive to provide individuals and families with the promise of inclusions, integration, productivity, independence and an improved quality of life.
The art was first created by founder of PeaceLove Studios and artist, Jeff M Sparr who has battled Obsessive Compulsive Disorder (OCD) for years.  While Jeff paints in order to focus and gain control, he also wears a Philip Stein Timepiece to help him regulate his stress and balance his energy.  Jeff found immediate benefits from the brand's exclusive Natural Frequency Technology embedded in every watch, which clinical studies suggest work with the body to reduce stress, aid in enhanced sleep and increase focus, giving the wearer and overall improved sense of well being.
Jeff partnered with Philip Stein in order to create a limited-edition art dial watch collection designed by the PeaceLove community artists as creative expressions of the struggles we endure to find peace of mind and love in our hearts.  The collection of watches will feature colorful one-of-a-kind PeaceLove artwork and Philip Stein's exclusive Natural Frequency Technology. (not limited edition) watches of each design will be sold online for $225 at PeaceLoveStudios.com or FruitzWatches.com or FRUITZ retailers nationwide As with all Philip Stein timepieces, the limited-edition FRUITZ for PeaceLove Studios watches contains Natural Frequency Technology.
The PeaceLove Foundation will be hosting their first annual fundraising event, celebrating supporters who have helped to make the organization possible.  The event will be held on Tuesday, May 17th, 2011 from 7-10pm at 1005 Main Street, Pawtucket Rhode Island.
About FRUITZ by Philip Stein Watches:
FRUITZ watches sport an oversized dial with a multicolor sunburst design in either stainless steel or gold plated cases. The unique design of the timepieces feature "seeds" instead of numbers for markers, a distinctively curved second hand accentuated in a contrasting color from the dial and a sleek silicon strap in coordinating hues.  The various collections retail from $225 -$295.
About Philip Stein Group:
Philip Stein is the leader in watches and other lifestyle products using proprietary Natural Frequency Technology. The company has acquire notoriety no only through their commitment to superior product and use of natural frequencies, but also with a large celebrity following over the years including Oprah Winfrey saying it is "one of her favorite things" three times and regular customers like Rupert Murdoch, Madonna, Samuel Jackson and many others.
About PeaceLove Studios:
PeaceLove Studios is a growing community of mental health advocates and artists creating conversations of acceptance, understanding, and hope. Through the dissemination of the PeaceLove symbol, the organization is dedicated to breaking the silence and eliminating the stigma surrounding mental illness, unifying the tens of millions of individuals and families affected by these diseases. Through the sale of PeaceLove Studios Merchandise and original artwork, a portion of all proceeds is allocated to support like-minded non-profit organizations that work to provide resources and opportunities for individuals coping with mental illness. In addition, through strategic partnerships and programming, such as their Paint4Peace™ arts initiative, PeaceLove Studios strives to provide individuals with free programs and experiences designed to help create peace of mind.
SOURCE Philip Stein